My official time for the Gold Nugget Triathlon is in: 2:02:06. So, not quite the under-2-hours finish I had hoped for, but a good race nonetheless. And now, the story of the race....

The night before the race, Tom and I headed to Bartlett High School for the bike drop-off and bib pick-up. They were all out of swim caps but I picked up the rest of my swag: a race T-shirt and custom-made running socks. Nice! After making a nice pasta dinner for Kyle and Rebecca, we drifted off to sleep.

At 6 a.m., I was up and ready to go. Too bad the race wouldn't start for me for another few hours. The weather had been gray since we returned from the bike drop-off, so I decided to burn off some energy by driving out the check on my gear. With 1,150 women racing, the organizers keep people out of T1 after 8:30, so I wouldn't have another opportunity to check my stuff until I was racing. Sure enough, the rain had gotten some of it wet, so I brought it back to dry out.



While grocery shopping on Saturday, Tom and I had picked up fruit, yogurt, English muffins and cheese for a nice, healthy breakfast. On the way back Sunday morning, I stopped at Fred Meyer and picked up a tub of country bake and a diet Dr. Pepper. Healthy vs. junky: Which meal would win? In the end I ate them both. On a side note, if you've never visited a grocery store deli for breakfast, you should! Country bake is an oddly satisfying concoction of eggs, sausage, potatoes, cheese, biscuits and gravy, all cooked together and served by the pound.

Tom and Kyle dropped me off at 11:30, and I watched the swimmers a bit before heading down to the pool myself. After getting my number marked on both arms and a timing chip strapped on my ankle, I took a few warm-up laps, then joined the queue for a lane. After a quick countdown, I was off in what was arguably my best segment of the race. Despite my unorthodox backstroke/crawl combination, I passed other swimmers in my lane a few times and finished the 500-yard swim in 11:29. I crawled out of the pool and realized I should have used the men's locker room as I dodged bystanders on the pool deck trying to get to the women's locker room. I cursed wet spandex as I struggled to pull on my running tights, then trotted out to T1.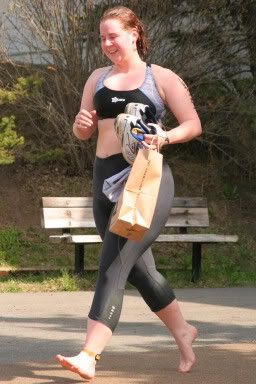 I wasted more precious seconds in T1 trying to fix my jersey zipper when I yanked on it wrong and it split from the bottom. With my shoes on and helmet firmly strapped, I grabbed my bike and ran for the chute. I had to dodge a young girl whose mother was helping her get her bike through the chute. I ran across the timing mat, hopped on my bike and got out of T1 in 5:08. I was cruising!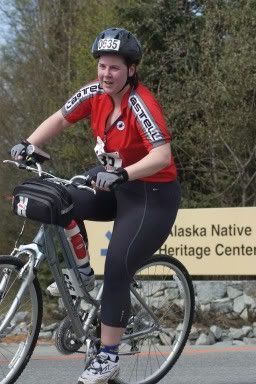 A couple of hard turns, and I was out on the bike course. I was eating goo. I was drinking water. I was unbeatable. And then that young girl from T1 passed me. And then other people started passing me. I ate more goo. I drank more water. I laughed at the moose on the side of the course. I cursed the sadist who designed a course that had all its hills right at the end. The T2 volunteers yelled their encouragement as I chugged up the final hill, then grabbed my bike, helmet and gloves and sent me on my way. Total bike time: 50:09.

I took a Powerade as I headed for the run course, and lived to regret it as that stuff apparently makes me nauseated. There was, to be frank, no way I was going to run right after that bike course, so I hit my stopwatch and walked for 3 minutes, at which point I was somehow on another hill. I grudgingly began to jog, passing walkers and feeling a little smug. After 8 minutes of that jogging nonsense, I stopped to walk for another 2 minutes and let a moose cross the trail. I decided to jog to the next water station, which was 1.5 miles from the beginning of the course. When I got there, I decided to grab a water and keep jogging for a bit.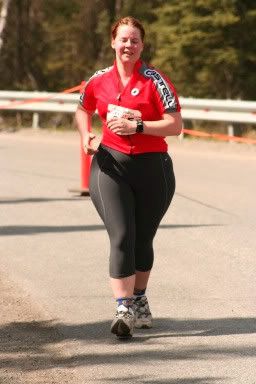 After a few twists and turns, I realized something strange was happening. I was still running. My plan had been to run/walk this section, as running is definitely not my strong suit, but I was still going! I might look like I'm walking in the picture, but that's just the way my slow pace looks on camera, honest! When I hit the second water station at 3 miles, I told myself I might as well just run to the end of the course. And so down a road, through a tunnel, up a hill, over a bridge I went. When I turned the corner for the final stretch, a little voice said "Go for it!" and I kicked my heels up and pushed hard, racing for the finish line as Tom and Kyle yelled from the sidelines. Total run time: 55:20. And you know what? I could have kept going.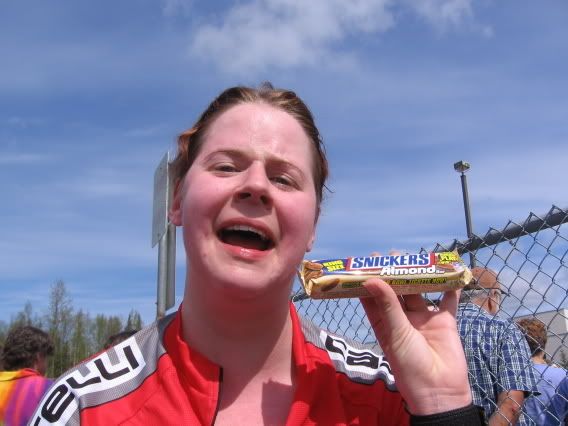 Since Snickers Marathon Energy Bars was one of the race sponsors, I expected one of those at the end, but a straight-up candy bar? Now that's not healthy! After a walk to cool down, we headed back to Kyle's so his ridiculous water pressure could beat me into submission, then Tom and I wrapped up the day with a trip to Peter's Sushi Spot.

The triathlon was an amazing experience. I went from no exercise in January to running a race in May, and managed to have some fun along the way, too. I've got my sights set on the Chena Lakes Triathlon in Fairbanks in July, but I'll be heading back to the Gold Nugget next year. My goal? Work on the bike and run, and aim for 1:40.