I got back the roll of film I had developed yesterday and began to flip through them. Lo and behold, some of the pictures were from back in early June! So here's a little trip from June to August.





A man, a platform, a dream: Tom surveys the start of our new home. It was just some slabs of wood back then.



A few days later, framing went up for a wall.




And the next thing you know, you've got four wall framed! It looks small, but remember there will be a second story.




Tom has been a very dedicated, if not experienced, builder. He especially excels at painting, since I refuse to climb up on scaffolding to do it. I'll make up for it by painting the interior. Purple.



There's some sort of tradition, possibly Norwegian, that builders must put up this small tree on the roof when the roofing is done.




This interior wall will be part of our Arctic entryway, and will also hold the circuit box.




If you look past the grinning Tom, you can see that there are no exterior walls in the second story. Nor is there a ceiling.




Ahh, what a difference a few days makes!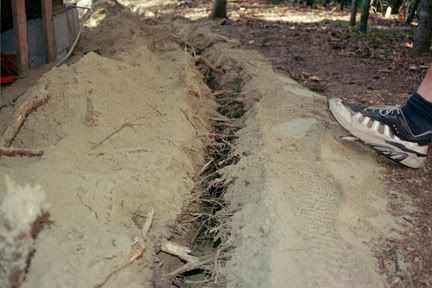 In order to get electricity down to the cabin site, a big ditch had to be dug from Savage's cabin. Tom's foot is in the picture to give you a sense of scale. Bear in mind that's a size 15 foot. The ditch was two painful feet deep.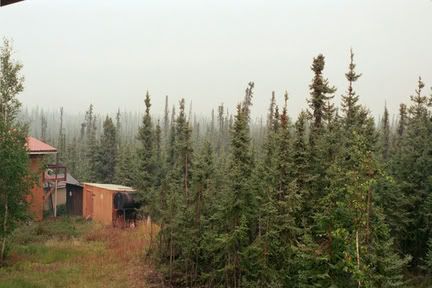 Normally you can see for miles. But then the smoke from wildfires rolled in. Unlike last year, it rolled back out after only a week or so.




We prefer to smoke ourselves the old-fashioned way: In the Hidden Hill sauna! Savage destroyed the MacGyver stairs this summer, so I am building new ones.




There's a family of grouse that hang out between Savage's cabin and the building site. They're not smart, but they're too fast to become dinner.





For right now, I'm living in a room upstairs in the main cabin. Fortunately it's a big room.




Unfortunately, I live in it with all my stuff, so it's also a very messy room.