And now, the long-awaited photos of the cabin.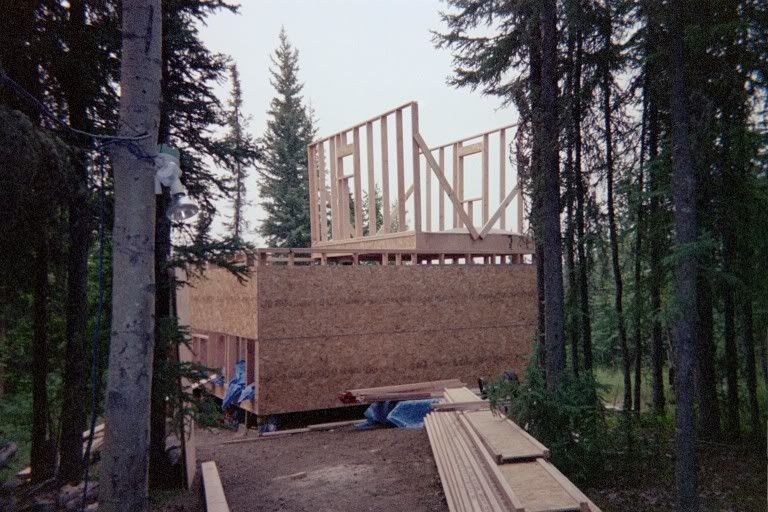 When we returned from camping in Denali, we found that the cabin had acquired walls for a second floor. We discussed it with Robert, and agreed to add side walls as well, thereby totally encasing the second floor.



A few days later, and presto! Side walls and a roof. Tom and I also spent a long time at Home Depot playing with their paint computer before selecting "Hazel Woods" for the exterior. It will blend into the surroundings in the summer and totally stand out in the winter. The paint computer, I should note, gave us absolutely no options remotely similar to the cabin to try the colors on. They should really add a shed to the list, as all their houses are McMansions.



Here's a lovely dark look at the interior. It keeps getting wet from the rain. This is where a roof will come in handy. It will also be brighter once all the windows are installed.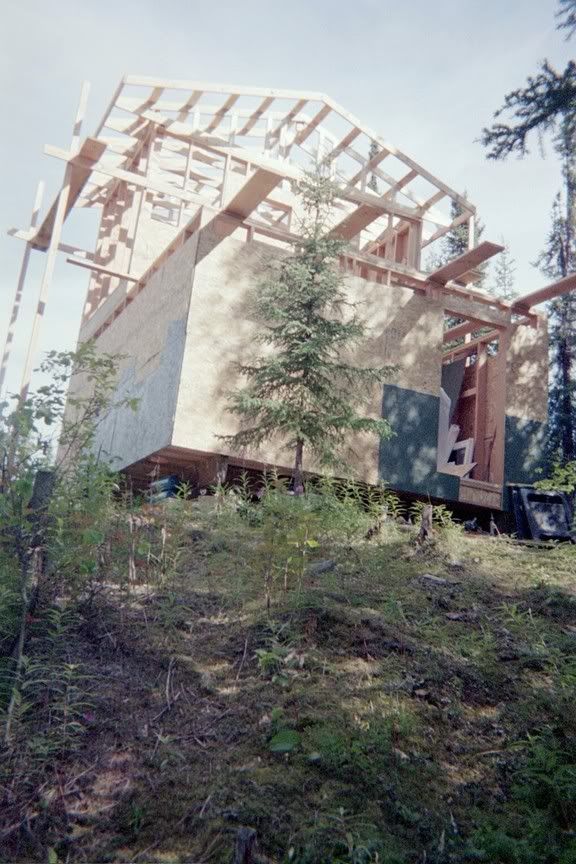 From the bottom of the hill, the cabin looks pretty big. All the scaffolding helps to enlarge it as well.

Since these pictures were taken, the window and door holes have been cut out, and the cabin is now throughly green. We realized that the stairway opening is not large enough to get the bed through, which prompted plans to hoist it up the side before the walls were enclosed. Instead, we are going to build a platform for the bed and just use the mattress, which can be squished through the hole.

Tom and I spent more time with the paint computer to pick out interior colors. Again, I don't believe we'll be having high ceilings or crown moldings in our cabin, and there were no other options. I've found a lovely fabric for curtains which Tom doesn't like. He's gone from not liking it to agreeing to use it for the bedroom curtains. With persistent nagging, I should be able to get it downstairs as well. Unless he's reading this, in which case I totally respect his wishes because he's an intelligent, handsome man with great taste in interior design.