I sent my friend Dillon a query about whether it would be morally wrong to take pictures from his blog for the express purpose of featuring them in my blog. His response?

I don't have morals. So go for it.
Therefore, with great pride I show you my weekend.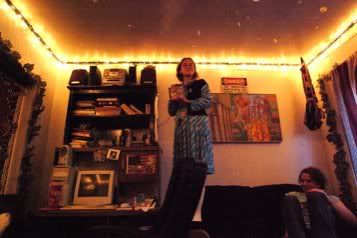 Justin Boucher threw quite the party on Friday. As usual, no one could stop Melissa Hart from playing whatever damn music she wanted. Not even if the stereo was all the way on top of the bookcase. Nothing stops Melissa, the party Nazi.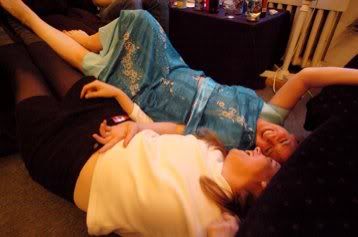 Even though I had put on a nice sari, I wasn't above rolling around on the floor with my good friend, Amanda Bohman. See what too many Margarita Surprises can do to a girl?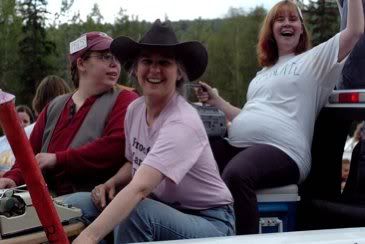 On the Fourth of July, I joined Deirdre Helfferich and Kate "Bonecrusher" Billington in the Ester parade. We proudly represented the Ester Republic, the finest newspaper in the borough. I rode in style as my alter ego, "The Deft Palate." I feel the stuffing in my bodysuit was an accurate representation of what I'll look like when my metabolism catches up with me.
We gave out candy and copies of the newspaper. Calypso Farm gave out radishes. I thought we'd be a crowd favorite, but it seems my boyfriend is taking this 'healthy eating' stuff too far. Uh, Tom, it's a holiday. If you don't eat candy, the terrorists win!
Melissa and I were jubilant at the end of the parade. We won the award for best float, though that may have been a pun, since we stopped in front of the judging booth and bribed them with root beer floats. Throughout the day, I alternated between inviting people to punch me in the stomach or clasping my giant gut tenderly and cooing "I felt it kick."