Rilo Kiley has been one of my favorite bands since I got their albums last year. Sure, it hasn't been long, but I can't seem to get their albums out of rotation. Their songs are light indie-pop with lyrics that are often subversive or wicked. Recently, I came across an early copy of lead singer Jenny Lewis' new album, Rabbit Fur Coat. And with one listen, I was hooked.

First of all, Jenny Lewis is pretty foxy. Let's just get that observation out of the way.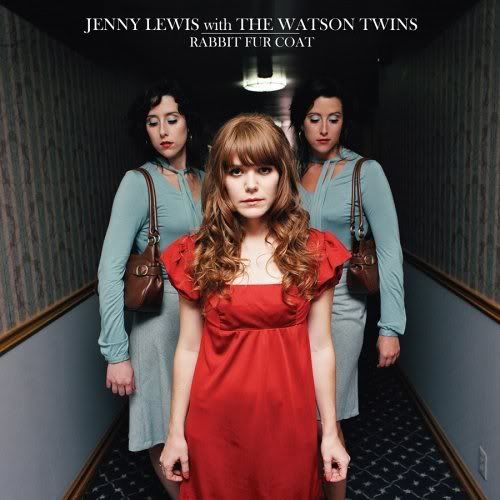 See? OK, moving on.... Jenny is joined here by the Watson Twins, who provide backup harmonies. The first thing I noticed was a strong Gospel influence. Of course, like a Rilo Kiley album, Lewis combines the Gospel flavor with an infectious indie-pop-alt-country flair.
After the sultry intro of Run Devil Run, Lewis gets your toes tapping with a strong beat in Big Guns, then slows down with the soulful Rise Up With Fists. The next track, Happy, is anything but happy. It slows down the tempo of the album and features soft guitar and Lewis' stunning voice. The rest of the album continues to take listeners on a fast-slow-fast roller coaster of sound.
Jenny Lewis has been on the music scene for years, and her songwriting has grown with time. Lyrics such as "When I'm with you, I'm looking for a ghost or invisible reasons to fall out of love and run screaming from our home" are hidden inside the upbeat tempo of You Are What You Love.
The album will be available at the end of the month, if you can wait that long.