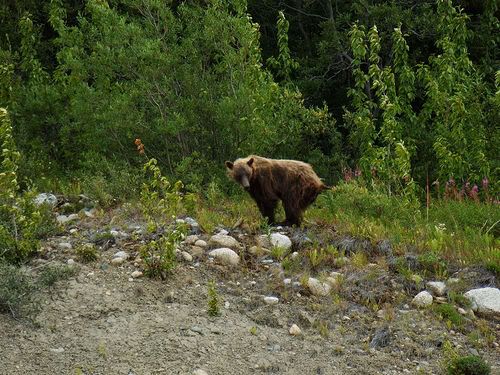 Our friends from Juneau, Tim and Jenna, came up for a visit last week. Were Tom and I happy to see them? Does a bear shit in the woods? Tim was proud to capture this image of a bear relieving itself alongside the road. I was happy to borrow pictures from them. Check out their pictures for yourself. Warning: A lot of the photos do not involve me and are therefore boring.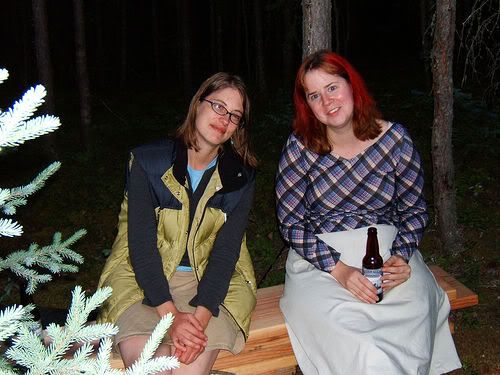 Jenna and I enjoy one of many evenings drinking and smoking down at the cabin site. I shamelessly brought them down there repeatedly so that I could get updated pictures more quickly. I like friends with digital cameras.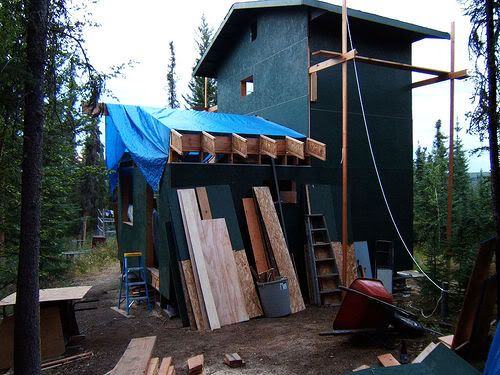 See? Work is progressing. In fact, there is now a roof on the lower section as well. I will try to invite someone else with a digital camera over soon so you can see.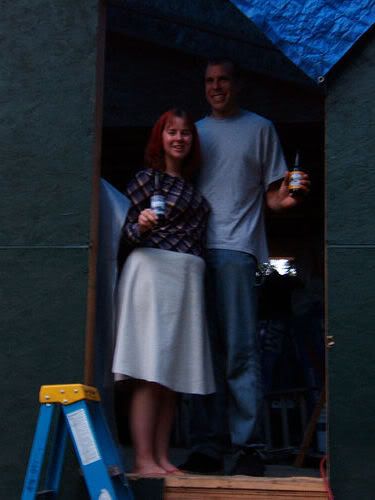 Tom and I are proud to show our Alaska pride by supporting two local breweries, Alaskan Brewing Company and Silver Gulch. I am holding the Silver Gulch because my thrifty nature just adores their Free Beer Fridays. We took Tim, Jenna and Larry out to Fox for this experience. Then we followed it up with buck beers at the Golden Eagle in Ester. Quite the drinking tour.


If you want to be invited back, always do the dishes. Tim's mother taught him well.



Look! There's Tom and me! We were enjoying our open, airy bedroom. Robert will finish putting up the other walls soon, and then it won't be quite so open and airy. A lot warmer, though.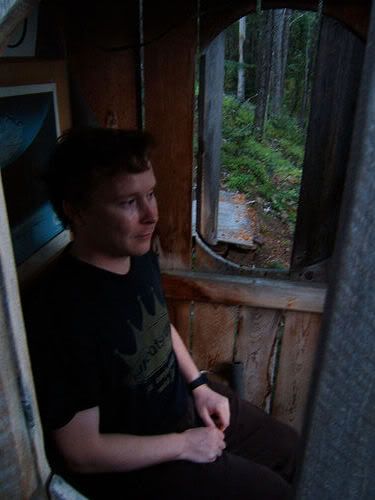 Tim does his best thinking on the pot, and our outhouse gave him a lot to think about. Why does the floor have orange carpet? Shouldn't there be a door for privacy? If I fall off the shoddy deck, how long will it take for searchers to find my body?

Don't worry, Tim, we'll fix up the outhouse before your next visit.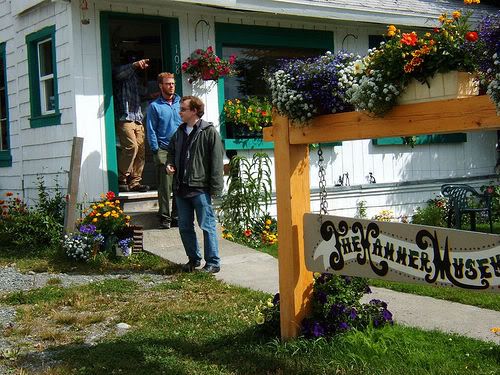 Tim and Larry enjoyed a visit to the Hammer Museum in Haines on the way to Fairbanks. Tim told us that it was really quite interesting. I'd say that we'll check it out one day, but, honestly, we won't.


You can take the kids out of the country, but you can't take the country out of the kids. Tim's cowboy hat also made an appearance at Chena Hot Springs, accompanied by a pair of pimp glasses. Tim sure does know how to stand out in a crowd of Japanese tourists.